Spirited Away: Always with me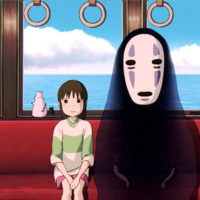 Spirited Away (imdb.com) is één van mijn favoriete films (naast Life of Brian en Kung Fury ) en stond al lang op het lijstje om eens wat over te schrijven (in de hoop dat je hem gaat kijken). Spirited Away is een anime (Japanse animatiefilm) van Studio Ghibli. Het is een visueel prachtige film, waardoor de film mijn oorspronkelijke interesse wist te pakken, vol fantasie. Een betere beschrijving is misschien "droom".
Metafoorrijke wereld
Het verhaal gaat over een jong meisje dat haar ouders kwijtraakt en in een mysterieuze wereld terecht komt. De film zit bordevol metaforen, die de kijker zelf mag ontdekken. Het meisje raakt verdwaalt in een wereld die ze niet snapt, maar wordt (met wat hulp) ingeburgerd in een vreemde wereld waarin ze haar identiteit heeft moeten inleveren in ruil voor werk. Hmmm, dat klinkt net als... de echte wereld? Zeker een aanrader! Naast dat het een geweldige film is, bevat het ook nog het allermooiste credits-liedje dat ik ooit ben tegengekomen. Hieronder vindt je de tekst daarvan.
Always with me
Spirited Away End credits song (engels vertaling)
Somewhere, a voice calls, in the depths of my heart.
May I always be dreaming, the dreams that move my heart.

So many tears of sadness, uncountable through and through.
I know on the other side of them I'll find you.

Everytime we fall down to the ground we look up to the blue sky above.
We wake to it's blueness, as for the first time.

Though the road is long and lonely and the end far away, out of sight.
I can with these two arms embrace the light.

As I bid farewell my heart stops, in tenderness I feel.
My silent empty body begins to listen to what is real.

The wonder of living, the wonder of dying.
The wind, town, and flowers, we all dance one unity.

Somewhere a voice calls in the depths of my heart,
keep dreaming your dreams, don't ever let them part

Why speak of all your sadness or of life's painfull woes.
Instead let the same lips sing a gentle song for you.

The whispering voice, we never want to forget,
in each passing memory always there to guide you.

When a mirror has been broken, shattered pieces scattered on the ground.
Glimpses of new life, reflected all around.

Window of beginning, stillness, new light of the dawn.
Let my silent, empty body be filled and reborn.

No need to search outside, nor sail across the sea.
Cause here shining inside me, it's right here inside me.

I've found a brightness, it's always with me.
Yumi KIMURA
Geplaatst: 20-08-2016 - Sietse Visser